FardanTech Smart Temperature Scanner

FardanTech presents Smart Temperature Scanner solution that adopts a new AI chipset, large IR thermal sensor array, and complex algorithms, providing cutting-edge body temperature detection with advanced face and mask wearing recognition.

Automatic Temperature Scanning
The device checks the temperature of visitors and employees with high precision and fully automated without any human intervention.

Blazing-fast Detection and Alerts
Our device has the fastest scanning speed on the market. Quick passing in front of the device is sufficient to monitor the temperature, allowing for smooth movements and easy examination in public places and work environments. Moreover, the device will give an alerts on spot whenever it detects any person with temperature above normal range.

Smart Mask Detection
The device can help implement the laws and safety guidelines of wearing masks, as it has the ability to automatically detect if a person is wearing a mask or not, with an alert being issued in the event that the mask is not worn.

Powerful Face Recognition and Visitors Record Keeping
The device is capable of storing records and images of up to 30,000 visitors with all the important information detected and captured by the device: (time, age, gender, temperature).

The device is very easy to deploy and is specifically designed for checking your employees or visitors in work environments and public places. It is suitable for use by companies of any size.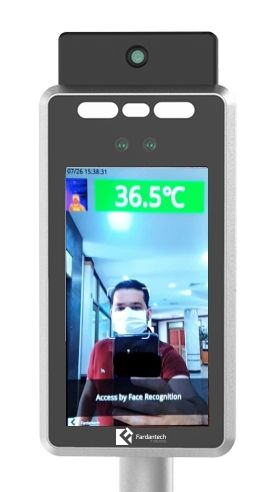 Our industrial-grade solution takes contactless thermometer and scanners to the next level of automation and speed.
Fast Detection
(0.05s,the fastest in the market)
Long Detection Range
(0.3M-1.2M, no mis-detection and protect people)
High Accuracy
(±0.2 forehead temperature 99.9% face recognition: the best solution for access control)
| | |
| --- | --- |
| Operation System | Linux |
| Display | 7 inches TFT Screen |
| Speaker | Voice Prompt (Language can be selected) |
| Language | Customizable Multi-languages: English, French, Spanish, Italian, Japanese, Korean, etc. |
| Face Capacity | 30,000 |
| Verification & Identification Speed | < 200ms |
| Face Anti Spoofing | Printed photo, Electronic display of a facial photo, Replaying video,3D face masks, etc. |
| Facial Recognition Accuracy Rate | 99.9% |
| Forehead Thermometer Accuracy | ± 0.2 ℃ |
| Work Range | 0.3m~1.2m |
| Transaction Storage | 8GB EMMC storage supporting 30,000 face images |
| Infrared thermography Camera | Uncooled Infrared Focal Plane Junction Detectors Array Sensor resolution: 120*90 |
| Facial Recognition Camera | Dual 1080p Starlight CMOS sensors for visible light and near infrared light |
| Communication | TCP/IP, USB-Host, USB-Client Optional: Wifi, 4G |
| Interface for Access Control | 3rd Party Electric Lock, Exit Button, Alarm |
| Power Supply | 12V DC, 2A (9-16V DC) |
| Operating Temperature | -40 ℃ ~ 60 ℃ |
| Dimensions | 120mm*226.5mm*33.5mm |